The Sweet Sound of "Silents" February 29, 2012
"The Artist" cleaned up at the Academy Awards Sunday night, winning five
Oscars including the top prize for best picture. How is it that a black-and-white movie with virtually no dialogue walked away with so much acclaim?
Everything old is new again.
WMS media was a bit ahead of this
year's Oscar winner, "The Artist," by employing the now novel silent-picture technique way back in 1986 in our
featured video this month.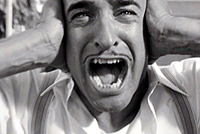 In our cacophonous society we're all bombarded with words, words and more words. That's why to really stand out, sometimes you have to run in the opposite direction of the pack. Namely, cutting any dialogue or narration. Film and video is all about visual story-telling where less is more when it comes to words. We're constantly telling our clients that words only play a supporting role in a video and to let the images carry the day. In fact, when approaching the job of writing a script, it's best to think in terms of writing captions to the visuals.
Old-time silent movies demonstrate this idea perfectly. Directors and actors back then were expert story-tellers using visuals with very few words. Just watch how exaggerated gestures effortlessly convey sadness or happiness. For maximum visual impact in your projects, try employing this technique the old masters knew. Sure, it's okay to include facts and figures in your communication vehicle, but remember that video excels at eliciting feelings and excitement in the viewer through imagery.
After all, who hasn't laughed or cried or screamed at some point in their life watching a movie?
0